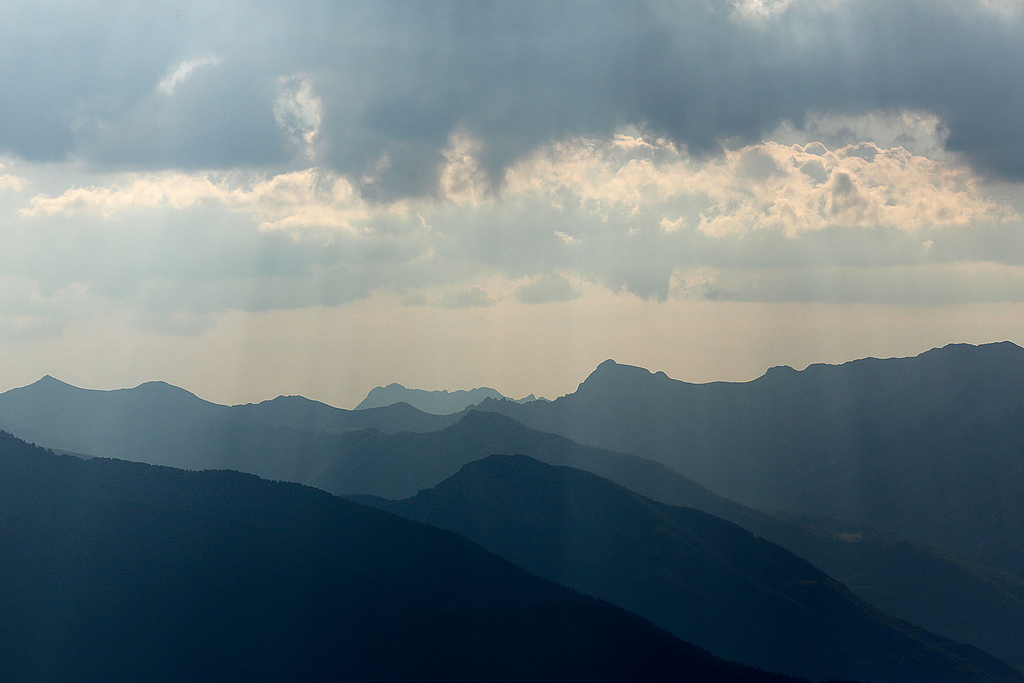 Because Kosovo has only recently begun to become a destination for Balkan tourism, those who come here now are met with an overwhelming amount of warmth and generosity. Those who travel here on foot via the green trail even more so, for the locals will recognize the significance of your journey and the determination it takes to cross through the rough and tough "
Accursed"
mountains of Kosovo's Prokletije National Park, part of the same mountain range that rambles across the borders of eastern Montenegro and northeastern Albania. These are the highest mountains of the Dinaric Alps, their jutting heights and deep, cutting ravines formed through a mixture of erosion from ancient glaciers and volcanic activity. The highest mountain in Kosovo is Gjeravica near Deçan in the Prokletije range, and reaches 2.656m – just slightly lower than the great Maja Jezerce in Albania, the highest peak in the Balkans.
The lowest point in the country is Vermicë in Prizren at 295m, while the capital Prishtina sits at just over 600m. Prizren is Kosovo's second major city, located at the north-facing feet of the Sharr Mountains National Park. While Prishtina is the most visited city in Kosovo, Prizen has a rapidly developing reputation as the country's cultural capital. Its historic center of town is enchanting in its Roman, Byzantine and Ottoman style, and the city has a burgeoning arts scene, most notably the Dokufest Film Festival, which began in 2002 and occurs every August.
Peć is another not-to-miss destination in Kosovo; also called Peja, this is a small city set on the eastern margins of the Prokletije National Park and won the "Tourism for Tomorrow" award from the World Travel and Tourism Council in 2013. Peć is connected to Prizen by the White Drin River, which is a tributary of the larger Drin that drains out of the karstic Prokletije region and flows through many rocky yet vibrant and lush mountain canyons. One of these, the Rugova Canyon, is among the longest and deepest in Europe; it is known for its stunning geological features including waterfalls and limestone caves, and is the center for outdoor activities such as spelunking, rock climbing and caving. The rare alpine ecosystems formed along the canyons and in the mountains beyond are home to an abundant population of European brown bears, lynxes and wolves.
The Kaçanik Gorge runs down the middle of the mountainous northwest and northeast of Kosovo, leading into a central plain divided into two valleys – the Dukagjini Valley, where extensive irrigation and warm temperatures have created a fertile land for vegetables and vineyards, and the Kosovo Valley in the southeast, which is known for its fruit orchards. Kosovo is unusual for a place of its size in being almost entirely self-sufficient in water. The Drin River is the largest in the country and begins in the Prokletije Mountain Range, crossing through Albania and emptying into the Adriatic; it is one of many rivers that flow from Kosovo into major bodies of water including the Aegean and Black Sea.
---
{source}
<script type="text/javascript" src="https://trail.viadinarica.com/en/tour/long-distance-hiking/via-dinarica-white-trail/17291189/tour2go"></script><p><a title="Europe's largest outdoor platform" href="http://www.outdooractive.com/" target="_blank">part of outdooractive</a></p>
{/source}